Music School of the Hanseatic City of Stralsund
"Music and dance inspire." (Wolfgang Spitz, Director of the Stralsund Music School)
For the past six decades, the Music School of the Hanseatic City of Stralsund has been striving to foster the potential of every one of its students. With skilled and dedicated teachers, the school has had a broad impact, working in cooperation with pre-schools, schools and facilities for the disabled. At the same time, the pursuit of continuity, quality and excellence are the priorities of the school's educational programmes. In 2012 the Stralsund Music School moved into the newly renovated Landständehaus in the middle of the historic town centre.
As an educational institution of the World Heritage City of Stralsund, the Music School not only maintains meaningful traditions but also breaks new ground. Contributing to the regional and international network of institutions in the field of music education is just as important as motivating music students to make music and dance together.
It is widely acknowledged that learning an instrument or singing has a positive influence on a child's personal development. The Stralsund Music School also offers adults the opportunity to develop their musical skills.
All programmes focus on the most important experience during music education: the joy of making music and the awakening of creativity.
Guiding Principles of the Stralsund Music School
We set high standards!
We are the region's foremost provider of music education!
We inspire!
We work in accordance with a quality management system which meets the highest international standards!
Departments and Programmes
Basic subjects
Early music education, basic music training, early dance training
Music projects with school classes
Introductory and trial courses
Programmes for people with disabilities
Teaching
Wind, string and keyboard instruments
Ballet, voice, guitar, accordion
Classical percussion
Rock/pop/jazz, electric guitar, electric bass, drums
Preparatory training for university
Music School Ensembles
Orchestra
chamber music
big band
band
choir
In addition …
Music teaching/aural skills, recording studio
Events, concerts, projects, competitions
Cooperation with schools, pre-schools, the Theater Vorpommern, the State Music School Grade II in Stargard Szczeciński
German-Polish Music School Centre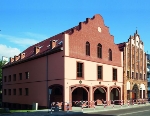 For many years the music schools of Stralsund and Stargard Szczeciński have maintained close and regular contact, giving rise to collaborations that extend far beyond the exchange programmes of the twinned cities. The schools work together in rehearsal and concert phases of their ensembles, educational exchange, jointly organised workshops and advanced training programmes.
With the German-Polish Music School Centre, outstanding conditions have been created in Stralsund and Stargard Szczeciński for intensifying this cooperation.
The German-Polish Music School Centre was funded in Germany and Poland by the European Union with assistance from the European Regional Development Fund in the context of the operational programmes of Objective 3 "European Territorial Cooperation – Cross-border Cooperation".
Contact
Music School of the Hanseatic City of Stralsund
Badenstraße 39 | 18439 Stralsund | GERMANY